For a quote call 801-901-2184 now to speak with a licensed representative or click below to get a FREE quote.
Saying "I Do" to Wedding Insurance
Your wedding is a once-in-a-lifetime opportunity to make your day special.
Get the coverage you need in three easy steps.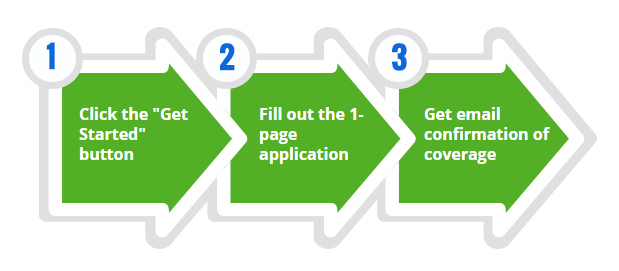 Planning For The Big Day?
From the dress to the food, we know you want everything perfect. Insurance might be the last thing on your mind during the planning process, but it should be the first!
Give yourself the gift of peace of mind as you plan your wedding. Then on your wedding day you will know that if anything does goes wrong, you're covered. On a day when nobody wants anything to go wrong, Hatch Insurance can make sure it turns out right.
Follow our easy 3-step process and you're covered.
Peace of Mind for Your Special Day
There's a lot to know when it comes to buying insurance – they types of options available, how much protection you need, and what represents a fair price. That's why it's important to have an independent agent looking out for you and your family. That's where Hatch Insurance Group comes into play. Here are some of the added benefits of choosing Hatch Insurance Group for your Special Events/Wedding Day coverage:
24/7/365 Claim Service – You can rely on Hatch Insurance Group to protect your special day. Our claim professionals are available 24 hours a dady, 365 days a year. Call us anytime at 877-795-1093.
Your one source for individual insurance needs – In addition to wedding insurance, Hatch Insurance Group can offer you coverage for auto, home, boat and yacht, personal articles, personal liability umbrella, condominium and renters.
Why do you need the Wedding Protector Plan?
Becky and Aaron spent months planning their destination wedding to Hawaii. But on their wedding day, a category four hurricane made their reception site inaccessible. If the couple had the right wedding insurance policy, they would have been reimbursed for lost deposits.

Cindy had just purchased her dream wedding dress. But when she went to pick up her dress a week before the big day, she saw an out of business sign in the window of the dress shop. With the right wedding insurance policy, Cindy could have been reimbursed for the money she lost.

Kelly and Roberto enjoyed their beautiful wedding up until their photographer called to say their wedding photos were ruined during the development process. Having the right wedding insurance policy could have helped to cover the cost to re-take the couple's wedding photos.

Subscribe to our Newsletter
We publish a monthly email blast that has current insurance information and changes in the insurance world. Our newsletter contains excerpts from our blog and from news published by our carriers…