Liquor Liability Insurance
For a quote call 801-901-2184 now to speak with a licensed representative or click below to get a FREE quote.
Liquor Liability Insurance
Hosting a Big Event and Serving Alcohol?
You May Need Host Liquor Liability Exposure Coverage.
Get the coverage you need in three easy steps.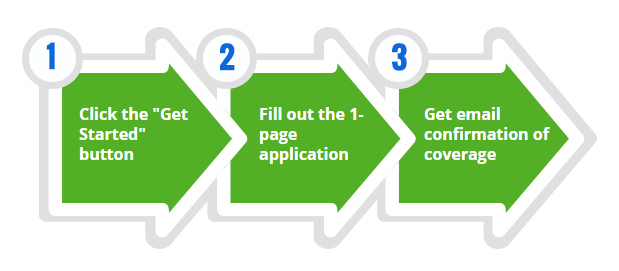 The Host
When you purchase general liability through HIG for your event, consider getting liquor liability coverage on the same policy through HIG's The Host product. Perfect for special events featuring host liquor liability exposures, this product has separate limits for general liability and host liquor liability, no deductible and coverage for damage to rented premises. Your low-hazard event can be protected with rain date coverage, set-up/take-down coverage and more. Where alcohol is involved, anything can happen. Don't host such an event without considering this important insurance.
Regardless of the type of event, accidents happen. Don't let your event be remembered for an accident; make sure you have the right insurance in place!
Peace of Mind For Your Hosted Event
There's a lot to know when it comes to buying insurance – they types of options available, how much protection you need, and what represents a fair price. That's why it's important to have an independent agent looking out for you and your family. That's where Hatch Insurance Group comes into play. Here are some of the added benefits of choosing Hatch Insurance Group for your Special Events/Wedding Day coverage:
24/7/365 Claim Service – You can rely on Hatch Insurance Group to protect your special day. Our claim professionals are available 24 hours a dady, 365 days a year. Call us anytime at 877-795-1093.
Your one source for individual insurance needs – In addition to wedding insurance, Hatch Insurance Group can offer you coverage for auto, home, boat and yacht, personal articles, personal liability umbrella, condominium and renters.
Why do you need the Coverage for your Party?
Separate limits for general liability and host liquor liability
Property owner can be included as additional insured for no additional premium
Expanded definition of bodily injury to include mental anguish
An attendee was drinking heavily at a holiday party hosted by the insured. While driving home, the attendee lost control of her vehicle and hit another vehicle head on. The other driver brought suit against the host of the party for negligence in serving the intoxicated attendee. The driver's injuries totaled $300,000.
A fraternal club was hosting a private reception for members and their guests. An underage guest presented a fake ID and was served alcohol. The intoxicated minor left the establishment and fatally injured an innocent victim. The family of the deceased sued the club for serving a minor. The claim settled for $890,000.
Subscribe to our Newsletter
We publish a monthly email blast that has current insurance information and changes in the insurance world. Our newsletter contains excerpts from our blog and from news published by our carriers…