For a quote call 801-901-2184 now to speak with a licensed representative or click below to get a FREE quote.
Prize Indemnification Coverage for Hole-in-One Contests
Get the coverage you need in three easy steps.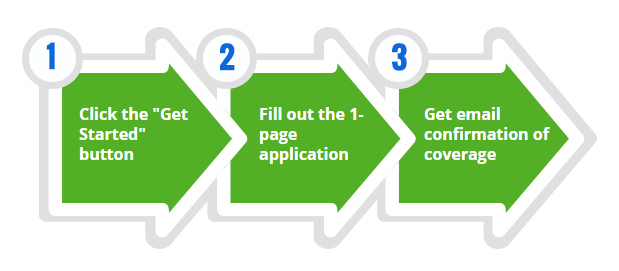 Hosting a Golf Event?
Hole in one contests are a great way to add revenue to your charity golf tournament at little cost. In addition to offering liability coverage on the golf outing as a whole, we offer unlimited prize restoration for hole-in-one contests up to $50,000 per hole.
If a hole-in-one is made, an additional 20 percent of the prize value will be paid to the hosting charity. Additional insureds can be included at no charge, and ladies can shoot from the regular ladies' tee box.
Score an ace this season with HIG's Long Shot product.
Easy witness requirements and no videotaping necessary and No Deductible make coverage easy.
Peace of Mind for Your Golf Tournament
There's a lot to know when it comes to buying insurance – they types of options available, how much protection you need, and what represents a fair price. That's why it's important to have an independent agent looking out for you and your family. That's where Hatch Insurance Group comes into play. Here are some of the added benefits of choosing Hatch Insurance Group for your Special Events/Wedding Day coverage:
24/7/365 Claim Service – You can rely on Hatch Insurance Group to protect your special day. Our claim professionals are available 24 hours a dady, 365 days a year. Call us anytime at 877-795-1093.
Your one source for individual insurance needs – In addition to wedding insurance, Hatch Insurance Group can offer you coverage for auto, home, boat and yacht, personal articles, personal liability umbrella, condominium and renters.
Why do you need Coverage for your Party?
Offer exciting prize with minimal cost at no rist to you
Prize hole sponsored by local businesses for additional tournament revenue
High-profile prizes attract more players and press
Uninsured prize leaves potential event profits unprotected
Juvenile Diabetes Foundation held their First Annual Super Swing Golf Gala to raise money for its charity. The foundation offered a $50,000 cash prize on hole 14. The first golfer of the day aced the hole and won the $50,000. Fortunately, their policy contemplated unlimited prize restoration so if another golfer made a hole-in-one, they would also receive the prize. Juvenile Diabetes was also a $10,000 winner, as the policy includes an additional 20 percent of the prize value to be donated to the charity.
The local country club held a golf tournament to increase awareness and raise money for Breast Cancer Research. Both men and women competed in the tournament. One golfer hit her first hole-in-one ever from 125 yards away and won the $25,000 prize. She was not the only winner; Breast Cancer Research also received $5,000!

Subscribe to our Newsletter
We publish a monthly email blast that has current insurance information and changes in the insurance world. Our newsletter contains excerpts from our blog and from news published by our carriers…